We are truly proud of the current state of this strategy pc game and we are sure that it is coming out in 2023.
Let me summarize for you in this update what we have done during 2 key milestones of Revive & Prosper development, and what we will do in the 3rd milestone.
R&P Video
Watch this short overview video of what the team from Mystiqular Game Studio has created in these 3 amazing months of development.
Milestone 1
The 1st milestone was like building the foundations of a factory.

The main rules were defined, along with overall game direction – consisting of strategy and survival gameplay and in-game map editor for level design.

Basic mechanics have been set for the voxel world, such as digging and lifting ground, water flow, soil moisture, building and, of course, conveyor belts.

Then the lively characters appeared, ready to fulfill orders and work hard.
Milestone 2
The 2nd milestone gave the game its shape, appearance, and the Revive & Prosper Steam page!

The proper user interface allows the player to have control over terrain upgrades, resource management and characters.

First factories start producing parts and components, thanks to energy systems powered by windmills.

The 1st demo came out on a map called Iron Lord showing the basics of the game. Players joining our Discord could ask for the very first access to this playtesting version of the game.

And finally the game received a pack of sounds for walking, hammering, harvesting or seeding.

The sounds give nice feedback for what is going on out of the player's, view and they make the world more lively and immersive.
Milestone 3
Now we have started the 3rd milestone of development, where the team will focus on polishing gameplay and features related to it.

For example tying up the water element by river basins and dams, for the sake of reviving the environment and allowing characters to survive.

The characters will gain abilities like strength or swimming in which they will be proficient and therefore perform better.

They will feel needs like hunger, thirst and tiredness that will put limitations on their working time.
R&P Steam page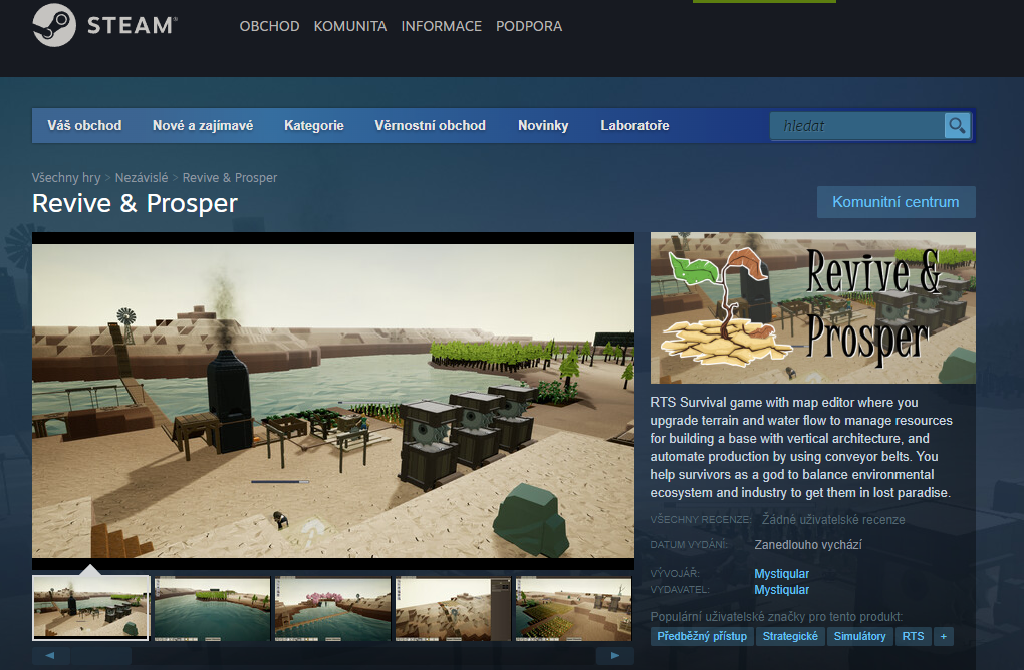 If you like the game, please add it to your Steam wishlist.
Shootinka, team Revive & Prosper